If you're making a pot of this, please invite me over.
Supporting Writers
from Chris Pavesic
My sister-in-law Breen loves to cook and occasionally works her magic in my kitchen. Just the other day she prepared one of our family favorites. We thoroughly enjoy a bowl or two during winter as lunch or dinner. For me the pepitas make this dish a hit. I love scooping them out one at a time with a spoonful of soup!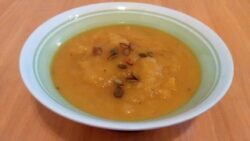 Roasted Butternut Squash Soup
4 lbs. butternut squash, peeled, seeded, and cut into 1-in. cubes
2 tbsp. olive oil
Salt and pepper to taste
2 tbsp. unsalted butter
1 onion, roughly chopped
8 cups chicken broth
1 tsp. dried thyme
Pepitas (Shelled pumpkin seeds)
Preheat oven to 400° F.
Place squash on baking sheets; avoid overcrowding. Toss with olive oil, salt, and pepper. Roast for 30 minutes.
Meanwhile, in a large Dutch oven over medium-low heat, melt the butter. Add the onion and sauté until translucent…
View original post 629 more words