Tasty recipes from the master herself, Sloane Taylor.
Supporting Writers
FORBREAKFAST
from Sloane Taylor
I enjoy experimenting with different food combinations and creating new recipes. This delicious dish is perfect for breakfast or even lunch, but then you may want to add a small salad and a glass of crisp white wine. 😊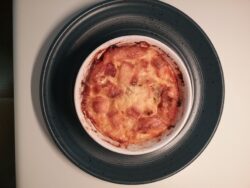 Italian Breakfast Soufflé for 2
½ lb. Italian sausage, bulk or links
2 – 3 tbsp. butter, softened
4 lg. eggs
1 cup milk
1 tsp. dried mustard
Freshly ground black pepper to taste
Chopped onion to taste
2 slices provolone cheese
½ cup sharp cheddar cheese, shredded
¾ cup mozzarella cheese, shredded
3 – 1-inch slices Vienna or French bread, cubed*
Preheat oven to 350° F.
If you use links then squeeze the meat from the casing before cooking. Fry sausage in a small pan until no longer pink. Be sure to break up any clumps. Set aside.
Spread butter on the insides and bottoms…
View original post 259 more words