C.D. Hersh
Wednesday Special Spotlight
Shines On
A recipe for Banana Coconut Muffins from Stella Mayplus a little from her latest time travel romance.
This is a wonderful recipe my family enjoys with breakfast or as a snack. Not only are the muffins nutritious, but they're also easy to prepare, taste great, and freeze beautifully. I hope you enjoy these oven gems as much as we do.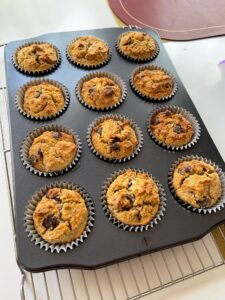 Banana Coconut Muffins
2 ripe bananas
2 large eggs, or 3 small
⅓ cup sugar⅓ cup oil (I use sunflower oil)
1 cup unsweetened shredded coconut
1 cup plain yogurt
1 tbsp. vanilla
Pinch of salt
1 tsp. baking powder
2 cups almond flour
1 cup chocolate chips, optional
1 cup chopped nuts (any type), optional
Preheat oven to 350° F.
Mix eggs with sugar, then add all ingrediencies through baking powder.
Stir in almond flour. The mixture is supposed to be a consistency…
View original post 411 more words