Fork and knife are ready!
Supporting Writers
BAKED HAM
from Janis Lane aka Emma Lane
Nothing tastes better then baked ham. Therefore, this is the perfect time of the year to share one of my favorite meals with you. The recipes are easy to prepare and are a wonderful combination of flavors that will have your family and friends asking for seconds.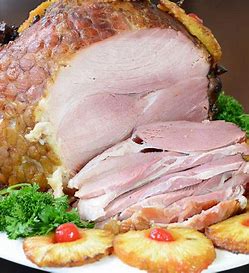 Baked Ham with Raisin Sauce
1 ham (Cured) bone in or out by choice
Whole cloves
1 can pineapple rings, reserve juice
Water
1 or 2 dashes of bourbon or white wine, optional
Maraschino cherries to decorate, optional
Preheat oven to 350° F.
Score ham ⅛ inch deep. Place 1 clove in each square. Use a toothpick to hang pineapple rings around the ham. Don't forget the sides!
Cover bottom of a large pan with ¼ inch of water, also bourbon or wine if you're using it.
Add ham then cover with aluminum foil…
View original post 650 more words